STRUCTURAL INTERVENTIONS
AMPLATZER™ AMULET™ LAA OCCLUDER CLINICAL DATA
Designed to treat patients with non-valvular atrial fibrillation (AF) who are at risk of ischemic stroke, the Amplatzer Amulet LAA Occluder offers complete closure of the left atrial appendage (LAA) and immediately eliminates the need for oral anticoagulants.1
STROKE RISK REDUCTION, AND FREEDOM FROM ANTICOAGULANTS
Clinical studies have shown that implanting AFib patients with the Amplatzer Amulet occluder is a safe and effective treatment option to reduce their risk of stroke and eliminate the need for oral anticoagulants.
79%
left the hospital without using OACs1
67%
reduction in stroke risk2
CLICK THE LINKS BELOW TO LEARN MORE
ABOUT AMULET OCCLUDER DATA
THE AMULET OCCLUDER IS PROVEN TO PROVIDE SUPERIOR COMPLETE CLOSURE1
Head-To-Head study demonstrates 63% lower risk of moderate or greater leaks with Amulet occluder3
Amulet occluder patients had significantly higher complete LAA closure rate by TEE compared to Watchman‡ device at both 45 days and 12 months.
‡Indicates a third party trademark, which is property of its respective owner.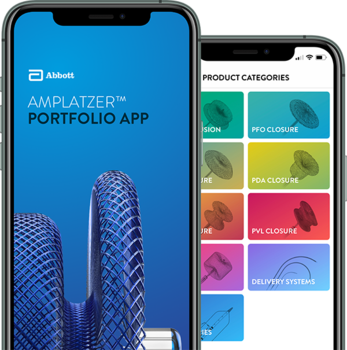 NEW VERSION AVAILABLE
GET THE AMPLATZER PORTFOLIO APP
The Amplatzer Portfolio App helps physicians determine which Amplatzer Structural Interventions device to use by suggesting applicable devices based on respective Instructions for Use.


MAT-2201604 v2.0 | Item approved for OUS use only.