INFORMATION FOR YOUR PATIENTS
AMPLATZER™ PORTFOLIO APP
EXCELLENCE
AT YOUR FINGERTIPS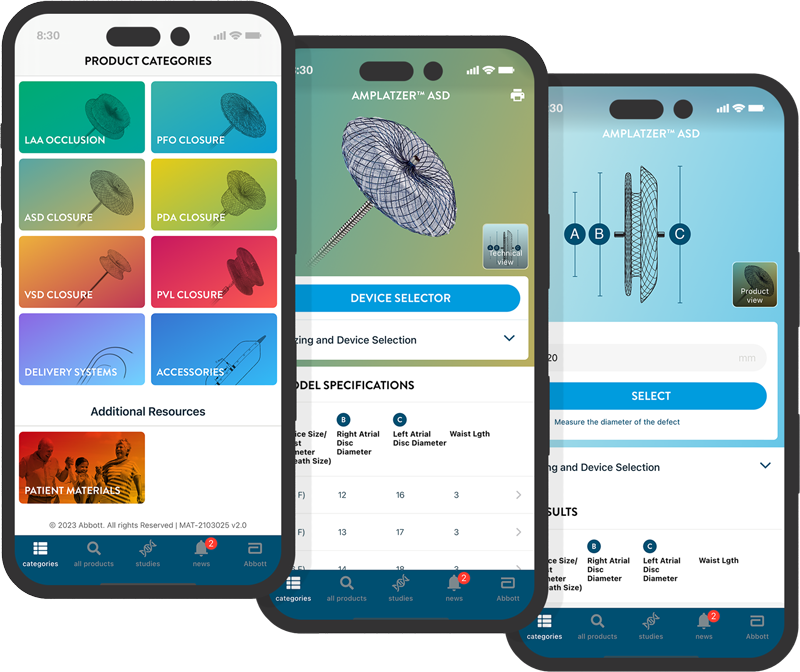 The Amplatzer™ Structural Interventions portfolio not only pioneered structural heart defect occluders, but also retains a leadership position in structural heart innovation and treatment worldwide, while advancing patient safety and providing physicians with easy-to-use solutions. After over two decades of clinical success, it remains the leader in innovation and treatment worldwide. We continue that innovation with the Amplatzer Portfolio App.

The Amplatzer Portfolio App helps physicians determine which Amplatzer Structural Interventions device to use by suggesting applicable devices based on respective Instructions for Use.

The Ampatzer Portfolio App Offers:
Information that is always up to date
The ability to show every device available in your region
Availability whether you're online or offline
Accessibility on smartphones and tablets
Translation in 7 languages
Free*

Shows every
DEVICE available
in your region

Accessible online
and offline

FOR SMARTPHONES
AND TABLETS

WATCH THE AMPLATZER
PORTFOLIO APP VIDEO
You can find treatment options, patient testimonials, patient guides and more in the Amplatzer Portfolio App. Learn more by watching the video here.
MAT-2303898 v3.0 | Item approved for OUS use only.