TEER
MITRACLIP™ Transcatheter Edge-to-Edge Repair
MitraClip™ is the first minimally invasive TEER* therapy that delivers a life-changing treatment option for select patients with primary or secondary mitral regurgitation who would otherwise go untreated.1,2 MitraClip is the standard of care in TMVr built on the only proven mitral valve therapy with over 20 years of experience, an extensive body of clinical evidence, and more than 200K patients treated worldwide.3
*TEER is also referred to TMVr (Transcatheter Mitral Valve Repair)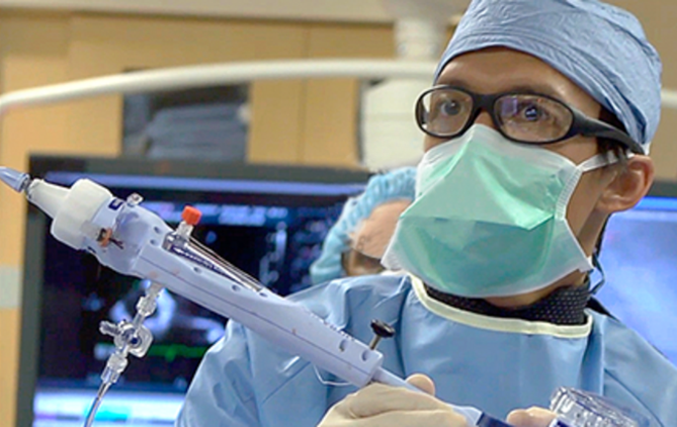 Built to Repair. Proven to Restore.
MitraClip delivers uncompromising performance in TEER and sets the standard in clinical outcomes. With each generation of MitraClip, Abbott remains at the forefront of therapeutic expertise, partnering with heart teams to help select patients with MR reclaim their lives.
PATIENTS WHO BENEFIT
A better quality of life is possible for your patients with MR

MitraClip™ transcatheter edge-to-edge repair (TEER) is a minimally invasive treatment option for select patients with:
Significant Primary MR and prohibitive surgical risk
Significant secondary MR with remaining symptoms despite maximally tolerated GDMT
The Catalyst for a Significant Evolution in MR Guideline
MitraClip is the first TEER (TMVr) therapy recommended by ACC/AHA and ESC/EACTS guidelines and ASPC recommendations for select primary and secondary* MR patients. The guidelines support aggressive monitoring and early action, with the goal of preventing complications due to LV volume overload.4,10-12

*Severely symptomatic SMR patients despite optimal GDMT.

Severe MR is vastly undertreated
Surgical intervention not offered or denied


49% of patients with symptomatic severe MR were not operated due to age, co-morbidities, or impaired LV.5 If left untreated, MR initiates a cascade of events leading to death, with 1-year mortality up to 57%6
IDENTIFYING PATIENTS FOR MITRACLIP THERAPY
Broad Range of Sizes for Tailored Treatment8,10

MitraClip G4 offers 4 Clip sizes to help tailor repair based on patient mitral valve anatomy.

G4 NT is the original MitraClip NT/NTR Clip size
G4 XT is the equivalent of XTR, with Clip arms that are 3 mm longer than G4 NT and allow for easier grasping due to better reach**


The G4 NTW and XTW clips have a 50% wider grasping area than the NT and XT clips respectively. They are designed to further reduce regurgitant volume reduce MR with the implantation of a single clip.**

Treat more patients with more options7,8

MitraClip successfully treats a broad range of valve anatomies in real world use8-10,14

Nearly 1 in 5 patients treated have valve anatomies considered complex8

Valve anatomies include: presence of severely degenerative leaflets, wide flail gaps or widths, calcified landing zone, wide jet, primary jet outside of A2/P2, and more.8


Long arm clip use was associated with improved MR reduction for severe baseline MR, smaller annular dimensions, larger prolapse gaps and complex mitral valve anatomy in primary MR.

– Cardiac Surgeon with over 10 years of experience with MitraClip*


Clip selection recommendations based on mitral valve anatomy10**

CLIP SELECTION CONSIDERATIONS

FAVORS
G4 NTW
FAVORS
G4 NT
FAVORS
G4 XTW
FAVORS
G4 XT
Leaflet Length < 9mm
+
+
Leaflet Length ≥ 9mm
+
+
Broad Jet
+
+
Smaller Valve
+
Larger Valve
+
+
+

MitraClip G4 clip selection recommendations were based on the initial clinical experience of an expert panel of physicians.8-10

More options to confirm and optimize leaflet grasping with Controlled Gripper Actuation (CGA)1,**

Controlled Gripper Actuation (CGA) provides the option to grasp leaflets simultaneously or independently, enabling the ability to confirm and optimize leaflet grasp.

NEW GRIPPER
LEVERS

SIMULTANEOUS
GRASPING

INDEPENDENT
GRASPING

Predictable procedure experience**

The innovative Clip Delivery System is a highly maneuverable delivery catheter that is used to implant the MitraClip via a Steerable Guide Catheter.

Precision and control from delivery system specifically designed for the mitral valve**


Increased procedural efficiency1,10



"IN OUR INSTITUTE, WE HAVE NOW REDUCED DEVICE TIME TO ~20 MIN."

Echocardiographer with 6 years of MitraClip experience, commenting on MitraClip G4*



Simplified procedural steps1

40% reduction in system preparation steps
Simplified system deployment with minimal number of steps

MAT-2010221 v4.0 | Item approved for OUS use only.