TMVR
TENDYNE™ TRANSCATHETER MITRAL VALVE REPLACEMENT
Tendyne™ TMVR System is first-in-class technology designed to eliminate mitral regurgitation (MR), offering select patients with MR (≥ grade 3), a novel option for mitral valve replacement.
TRANSCATHETER REPLACEMENT SYSTEM,
WITH SURGICAL-LIKE RESULTS FOR MITRAL REGURGITATION REDUCTION1,8
First-in-class technology that eliminates mitral regurgitation (MR) in select patients
Tendyne™ transcatheter mitral valve replacement (TMVR) improves your patients' function and quality of life by offering select patients with symptomatic, significant MR (≥ grade 3) a less invasive mitral valve replacement option over conventional mitral valve surgery. Tendyne TMVR provides symptom relief by eliminating MR.1
Beating heart procedure without the need for cardiopulmonary bypass or rapid pacing
Complete MR elimination in 99% of patients at 30 days1
Sustained MR elimination in 93% of patients at 2 years1
96% technical success rate1,*
System is fully repositionable and retrievable at any point intraprocedurally
Significant improvement in symptom and quality-of-life measures1
Low mean mitral gradient of 3.2 mm Hg at 2 years1
*Technical success per Mitral Valve Academic Research Consortium (MVARC).
PATIENTS WHO BENEFIT
MR is the most common valvular heart disease and is significantly undertreated3
More patients are suffering from MR than any other valve disease, and only a small percentage of them are treated.2,*,† Significant MR is 4 times more prevalent than significant aortic stenosis.3,4
*Calculations are approximations made based on data from Mills J, Furlong C. CANACCORD: Biomedical Devices and Services. Nov 8, 2016 and Millennium Research Group. US Markets for Heart Valve Devices 2014. 2013; RPUS12HV13:92; and data from Abbott (LRP 20161130; based on LBE4) and Millennium Research Group. US Markets for Heart Valve Devices 2014. 2013;RPUS12HV13:94,153.
†Patients treated defined as undergoing surgery or transcatheter procedure.
Solutions are needed beyond surgery

In one survey, almost 50% of symptomatic patients with severe MR were not candidates for mitral valve surgery due to underlying factors, including5,*:

Impaired left ventricle (LV) ejection fraction
High operative risk
Multiple comorbidities
Advanced age
For these patients most in need of intervention, medical management is not enough.

*Based on a survey of severely symptomatic MR patients in New York Heart Association (NYHA) Class ≥ II+ (n = 396); 10% had surgery the following year. The remainder had no surgery and received medical management only.

Greater MR reduction is associated with higher survival

Real world evidence shows significant relationship between degree of residual MR and survival after transcatheter mitral repair. Tendyne is an option for select MR patients who may benefit from MR elimination.6

Post-Procedural Mitral Regurgitation6


From United States TVT registry
Designed for the mitral anatomy to eliminate MR
Valve
Dual-frame design provides customized anatomic fit and maintains stable hemodynamic performance
Inner frame
Circular self-expanding, tri-leaflet, bioprosthetic valve
Outer frame
Contoured design respects the shape of the native mitral valve for secure fixation and seal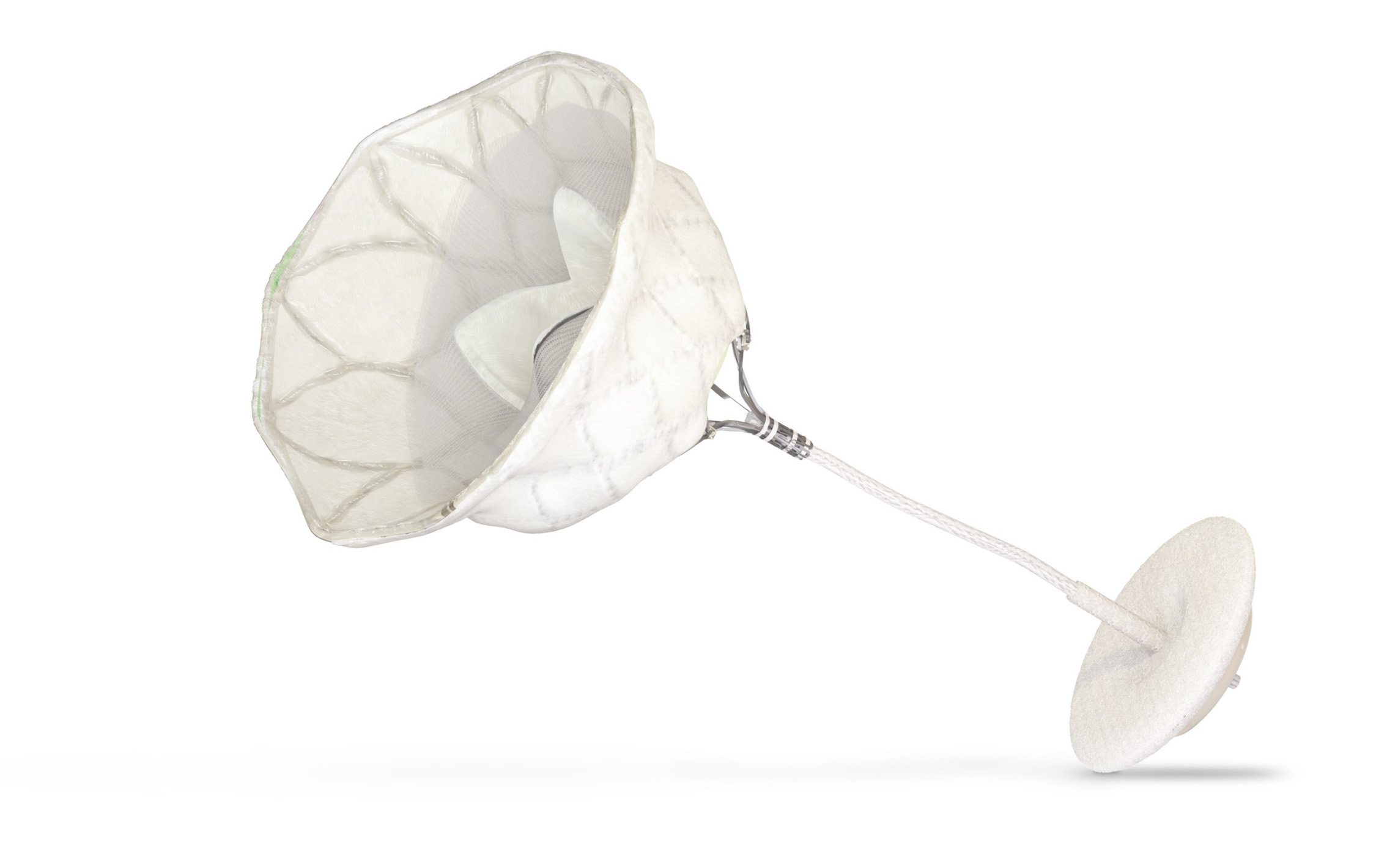 Tether
High degree of device positioning control, including full retrievability at any point intraoperatively
Pad
Placed over the access site and associated with a low rate of complications7
MAT-2000613 v7.0 | Item approved for OUS use only.