STRUCTURAL INTERVENTIONS
AMPLATZER™ PFO OCCLUDER
For patients who have experienced a PFO-associated stroke, clinical trials have shown that they can benefit from PFO closure.2-4 This minimally-invasive procedure significantly reduces the risk of recurrent ischemic stroke and offers an excellent safety profile.
THE PIONEER
IN PFO CLOSURE1
As the device that created the category, the Amplatzer™ PFO Occluder has sustained leadership over decades of use by pursuing clinical evidence to become the first device supported by positive PFO trial results.2
Today, it is the most-studied device of its kind, with over 180,000 patients treated worldwide.1 And our clinical evidence is unmatched, thanks to the largest-ever trial for PFO closure, boasting 5,810 patient-years of data.2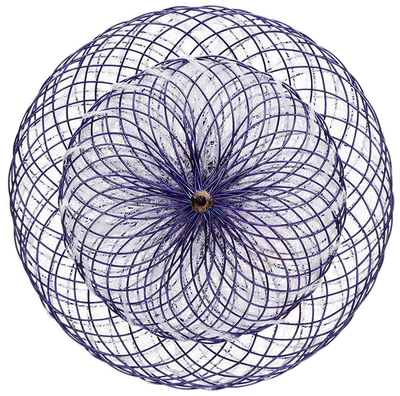 The PFO Occluder trusted by thousands of physicians around the world1

WE SET THE STANDARD
For over 20 years, the most-studied and most-trusted device of its kind.
Pioneered treatment with a PFO-specific device
Available in over 80 countries around the world
5,810
PATIENT-YEARS OF DATA2

WE RAISE THE BAR
With the landmark RESPECT trial,2 we had the most extensive patient follow-up, almost 2x more than other PFO trials
RESPECT was also the only trial to include patients on anticoagulation therapy, a real-world cross-section of patients
990
PATIENTS IMPLANTED WITH DEVICE IN RCTS2-4

WE DEMONSTRATE EXCELLENCE
ZERO device erosions, thrombus, or embolization events in 6 published trials with 990 patients
94.2% effective closure rate at 6 months
PATIENTS WHO BENEFIT
FROM PFO CLOSURE
The Amplatzer PFO Occluder is a percutaneous, transcatheter occlusion device intended to close all types of PFOs (i.e. classical, as well as those with aneurysm of the septum) in patients with a history of stroke or transient ischemic attacks (TIAs) diagnosed by echocardiography with right-to-left shunting during the Valsalva maneuver.
Among patients with a PFO who have had an ischemic stroke, the Amplatzer PFO Occluder has demonstrated excellent safety and effectiveness in reducing the risk of recurrent stroke.
Key benefits for PFO patients
59% RELATIVE RISK REDUCTION IN RECURRENT ISCHEMIC STROKE5
LESS ANXIETY, MORE PEACE-OF-MIND
For patients who have experienced a PFO-associated stroke, the thought of a recurrence can generate anxiety. Determining and delivering the most effective treatment soon after a stroke is critically important to provide these patients with peace-of-mind.
For patients and caregivers wanting to learn more about PFO-associated stroke and PFO closure, www.PFOstroke.com is an excellent resource, including:
All about PFO and stroke
Understanding PFO treatment options
Information about PFO occluders
Resources, including FAQ and brochures

Back to walking 12 miles per day
Alan Whitstable - England

As an employee of the Royal Mail postal service "I'm back on full delivery, walking nearly 12 miles a day. Now it gets to be 8:00 at night, and I'm still bouncing off the walls, full of energy. I feel that I owe everyone who was involved a massive thank you."
FEATURES
The first occluder developed specially for patent foramen ovale (PFO) closure continues to leverage its role in the industry, with data conclusively demonstrating the excellent safety profile of the Amplatzer PFO Occluder.2 The Amplatzer PFO Occluder's design features are responsible for its success.
*Only the 18mm size is not asymmetric
Minimizing Complexity in PFO Closure
UNIQUE
SELF-EXPANDING DISCS
Linked by a short-connecting waist, the discs align to the PFO with no need for an additional "locking" step

FULLY RECAPTURABLE, REPOSITIONABLE
Ensure optimal anatomical placement of the device for effective closure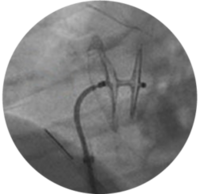 LOW-PROFILE
DELIVERY
8 F and 9 F introducer sheaths enable treatment of patients with smaller vasculature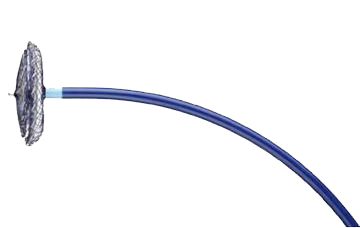 MAT-2010605 v3.0 | Item approved for Global OUS use only.