TOOLS & RESOURCES
Structural Heart Webinars
Abbott has built an expanding array of resources to assist the whole interventional cardiology care team in delivering the full potential of every structural heart procedure across our portfolio of innovative solutions.
WEBINARS
STRUCTURAL INTERVENTIONS - STROKE RISK REDUCTION
Watch webinars that focus on stroke risk reduction, including LAAO (Left Atrial Appendage Occlusion) therapies for AFib patients and also a series of webinars focusing on the importance of PFO Closure.
Collaborative and Data-Driven Management of The PFO- Associated Stroke Patient
How Does Amplatzer Amulet Help Prevent Leaks in LAA Anatomies?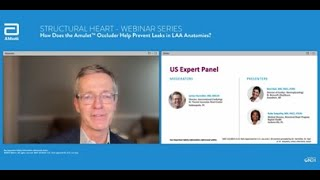 James Hermiller, MD, MSCAI
Director, Interventional Cardiology
St. Vincent Ascension Heart Center, Indianapolis, IN

Devi Nair, MD, FACC, FHRS - Presenter
Director of Cardiac – Electrophysiology
St. Bernard's Healthcare, Jonesboro, AR

Ruby Satpathy, MD, FACC, FSCAI - Presenter
Medical Director, Structural Heart Program
Baptist Health, Jacksonville, FL
MAT-2117051 v15.0 | Item approved for U.S. use only.