STRUCTURAL INTERVENTIONS
AMPLATZER™ SEPTAL OCCLUDER
The primary treatment option for atrial septal defects (ASD) is percutaneous, transcatheter closure, and Abbott's Amplatzer™ Septal Occluder is the proven standard of care1,2—with more than 20 years of global clinical experience in ASD closure.3
FROM THE #1 COMPANY IN CONGENITAL OCCLUDERS3
The Amplatzer™ line not only pioneered structural heart defect occluder devices, it remains the leader in innovation and treatment worldwide. The Amplatzer Septal Occluder offers exceptional safety data, which is significant given that it is the most studied transcatheter ASD closure device on the market.6
PATIENTS WHO BENEFIT
The importance of treating patients with Atrial Septal Defects
Patients diagnosed with an ASD, who are indicated for closure with an Amplatzer™ Septal Occluder, exhibit both4:
Echocardiographic evidence of ostium secundum ASD
Clinical evidence of right ventricular (RV) volume overload (i.e., ratio of pulmonary to systemic flow > 1.5 or RV enlargement)
This testimonial relates an account of an individual's response to the treatment. This patient's account is genuine, typical and documented. However, it does not provide any indication, guide, warranty or guarantee as to the response other persons may have to the treatment. Responses to the treatment discussed can and do vary and are specific to the individual patient.
Patient Experience after Atrial Septal Defect Occlusion
Patients typically report symptom improvement after the closure of the ASD. In young children, growth rate can increase, and in children and young adults, LV filling improves. When younger patients are treated—those who have less chamber enlargement before repair—there is greater likelihood of normalization of RV size.6

KEY FEATURES
Two Amplatzer™ ASD Closure Devices for Optimizing
Patient Care
Abbott offers two devices for percutaneous, transcatheter ASD closure.
Amplatzer™ Septal Occluder
The Amplatzer™ Septal Occluder, approved in the U.S. since 2001, is intended for patients with an ASD in the secundum position or patients who have undergone a fenestrated Fontan procedure and who now require closure of the fenestration.4
The Amplatzer Septal Occluder is designed for ASD closure:
Shaped-memory nitinol mesh that securely apposes both sides of the septal wall
A wide waist that centers the device and fills the ASD
Polyester material that promotes occlusion and tissue in-growth
Can be recaptured and redeployed for precise placement4
The Amplatzer Septal Occluder has the widest range of device sizes, from 4mm to 38mm, enabling the treatment of the widest range of ASD defects.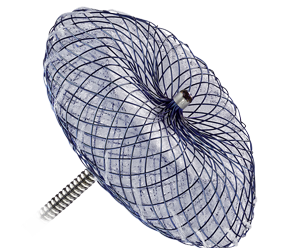 Amplatzer™ Cribriform Multi-Fenestrated Septal Occluder
The Amplatzer™ Cribriform Occluder is a percutaneous, transcatheter, ASD device intended for the closure of multifenestrated (cribriform) ASDs.7 Multiple, or fenestrated, ASDs that require closure are not uncommon. In fact, nearly 10% of patients with secundum-type ASD are found to have multifenestrated ASDs.5
In many ways similar to the Amplatzer Septal Occluder, the Amplatzer Cribriform design features include:
Self-expanding, double-disc device designed for closure of multi-fenestrated ASDs
Matched disc diameters that maximize coverage of multiple fenestrations
Ability to be easily recaptured and redeployed for optimal placement3
The Amplatzer Cribriform Occluder disc diameters range from 18 mm to 35 mm.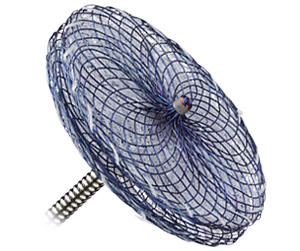 MAT-2008369 v4.0 | Item approved for U.S. use only.