PATIENT INFORMATION
HEART VALVE DISEASE
WHAT IS
HEART VALVE DISEASE?
In heart valve disease, one or more of the valves in your heart don't open or close properly. This can cause the blood flow through your heart to your body to be disrupted. People may be born with a heart valve problem (congenital), or it may occur in adults because of age or an infection.1
There are four heart valves—one for each of the four heart chambers—that keep blood moving through the heart in the right direction. These valves act like one-way doors, allowing blood to flow forward to exit each chamber of the heart. Each valve has flaps (leaflets) that quickly open and close once during each heartbeat so blood does not flow backward.1,2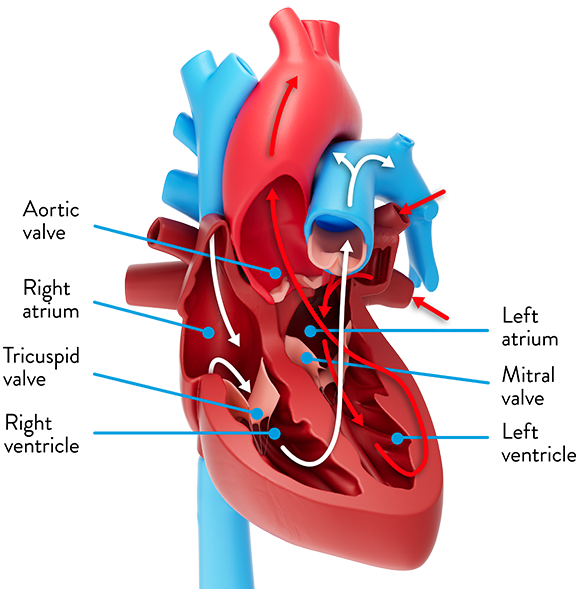 HEART VALVE DISEASE
SYMPTOMS
Symptoms of heart valve disease may vary depending on the severity of your condition. In some cases, you may have heart valve disease but not experience any symptoms. In other cases, you may experience heart valve disease symptoms such as1,2:

CHEST PAIN

ABDOMINAL SWELLING
FATIGUE

SHORTNESS OF BREATH

ANKLES AND FEET SWELLING

DIZZINESS

FAINTING

IRREGULAR HEARTBEAT

HEART MURMUR
HEART VALVE DISEASE
COMPLICATIONS
Heart valve disease can cause many complications, including heart failure, stroke, and death. Your heart valve disease treatment depends on the heart valve affected and severity of the disease.2 Sometimes heart valve disease requires surgery to repair or replace the heart valve.1
Mitral regurgitation and aortic stenosis are two of the most prevalent heart valve diseases, affecting millions of people worldwide. Read more about:

The information provided is not intended for medical diagnosis or treatment as a substitute for professional medical advice. Consult with a physician or qualified healthcare provider for appropriate medical advice.
MAT-2304039 v1.0 | Item approved for U.S. use only.