Patient information
IF YOU HAVE ATRIAL FIBRILLATION (AFIB) YOU MAY BE ELIGIBLE FOR THE CATALYST TRIAL
Patient information
IF YOU HAVE ATRIAL FIBRILLATION YOU MAY BE ELIGIBLE FOR THE CATALYST TRIAL

THE CATALYST TRIAL
The CATALYST clinical trial will evaluate the safety and effectiveness of the Amplatzer™ Amulet™ Left Atrial Appendage Occluder compared to the treatment of blood thinning medication in patients with non-valvular AFib who are at an increased risk for stroke and who are recommended for long-term blood thinning medication. Talk to your doctor to determine if this trial is right for you.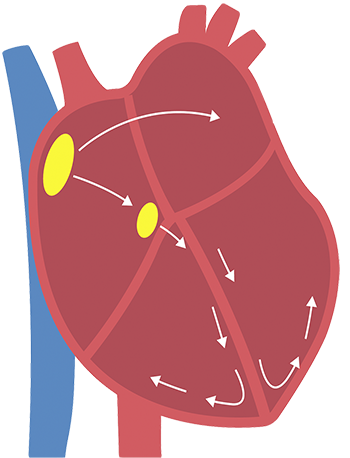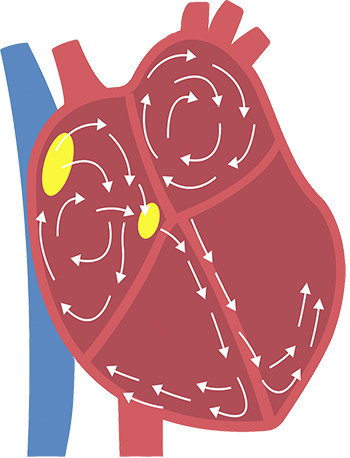 If you decide to participate in the CATALYST Trial, you will be randomized in a one to one fashion (like flipping a coin) to either receive the Amulet Occluder or continue your blood thinning medication.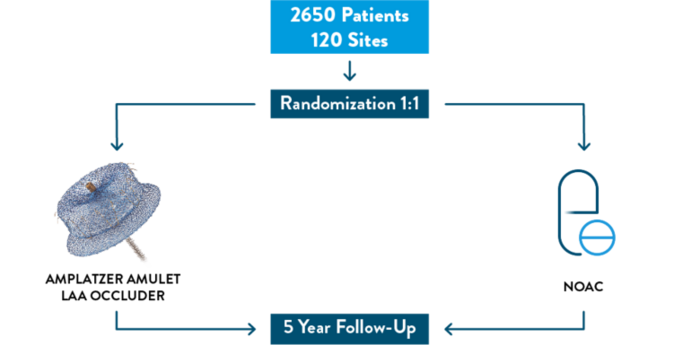 ATRIAL FIBRILLATION (AFIB)AND THE LEFT ATRIAL APPENDAGE
If you have AFib, irregular electrical impulses in the upper chambers of the heart cause those chambers to fibrillate, or quiver.
This results in an irregular and frequently rapid heart rate. This irregular beating can also cause an increased risk for developing blood clots, which can lead to a stroke.
The left atrial appendage is a muscular pouch connected to the left atrium of the heart. This appendage is a normal part of the heart and causes no problems in the general population. However, the left atrial appendage can be a major source of blood clots in patients with AFib.
During AFib, blood clots have the potential to form in the left atrial appendage. If the blood clots are pumped out into the body, the clots may flow to the brain and lead to stroke.
HOW IS
ATRIAL FIBRILATION TREATED?
Treatment depends on the severity of your AFib and if it's getting worse. Consult with your doctor to discuss all treatment options, risks, and benefits. Only your doctor can help you decide which option is right for you.

MEDICATIONS
Your doctor may prescribe blood thinning medications to reduce the risk of a clot forming.

CATHETER ABLATION
Catheter ablation or cardiac ablation is a procedure where your doctor will access your heart through a blood vessel and apply energy to the targeted heart tissue. This will isolate the area from the rest of the heart and reduce the risk for producing AFib.
LEFT ATRIAL APPENDAGE OCCLUSION
If you meet certain criteria, your physician may recommend a minimally invasive non-surgical procedure: left atrial appendage occlusion (LAAO).
Amulet Left Atrial Appendage Occlusion

The entire system is introduced through a vein in the groin area and advanced to the heart.
The Amulet LAA Occluder is currently approved by the FDA and other regulatory agencies for patients with AFib who are unable to tolerate long-term blood thinning medication and has been implanted in over 40,000 patients worldwide. The CATALYST Trial is looking to expand the availability of the Amulet LAA Occluder to patients with AFib who can tolerate long-term blood thinning medication but would like an alternative treatment option.
Left Atrial Appendage Occlusion with the Amulet occluder is a minimally invasive non-surgical procedure that:
Permanently closes off the left atrial appendage where clots are known to form for patients with AFib
Prevents clots formed in the appendage from escaping into the body, and in particular the brain
May allow you to stop taking blood thinning medication immediately
STEP 1
To implant the device, your doctor inserts a narrow tube into a vein in your upper leg.
STEP 2
Your doctor guides the device through the tube, into your left atrial appendage (LAA).
STEP 3
The procedure is typically done under general anesthesia and takes under one hour. People usually stay in the hospital overnight and go home the next day.
STEP 4
After the procedure, you will likely be able to stop your blood thinner, but check with your doctor.

NON-SURGICAL PROCEDURE
Less invasive than traditional open-heart surgery, the device is implanted via a small tube, or catheter, inserted through an incision in your upper leg.

SHORT HOSPITAL STAY
Patients are usually released from the hospital
within 24 hours.
ARE YOU A CANDIDATE FOR
THE CATALYST TRIAL?
WHERE CAN I PARTICIPATE IN THE CATALYST TRIAL FOR AFIB?

Both men and women can participate. You may qualify if:
You have a history of atrial fibrillation

Your physician determines you are at increased risk for AF-related stroke

You could take a blood thinner long-term or receive an Amulet device



AM I A GOOD FIT FOR THE TRIAL?

Before you are enrolled, you will be screened to make sure you are a good candidate for the study. Your screening may include:
A review of your medical history

Determine your stroke risk score
WHAT IS INVOLVED IF I CHOOSE TO PARTICIPATE?
You will be assigned to either receive a blood thinner or an Amulet device. You should plan on following through with this assignment.

If you are assigned to the Amulet device, you'll need some images taken of your heart and will undergo the implant procedure.

You'll follow-up with the research team every few months initially and then annually over the next 5 years.
WHAT ARE THE
SYMPTOMS OF AFIB?

HEART PALPITATIONS

FAINTING

LIGHTHEADEDNESS

SHORTNESS OF BREATH

CHEST PAIN
WHAT ARE THE
RISK FACTORS FOR AFIB?

HIGH BLOOD PRESSURE

VALVULAR HEART DISEASE

HEART
FAILURE

CORONARY ARTERY DISEASE

CARDIOMYOPATHY

CONGENITAL HEART DISEASE

DIABETES

SMOKING

EXCESSIVE ALCOHOL USE
FREQUENTLY
ASKED QUESTIONS

Why should I participate if I don't have issues on my medications?

Blood thinners reduce the risk of stroke in AFib patients and are safe for most patients. However, there is a continued risk of stroke even when on a blood thinner, and there is the risk of bleeding events. The CATALYST Trial will determine if using the Amplatzer Amulet LAA Occluder is a reasonable alternative to blood thinners.

Your chance of having a clinically relevant bleeding event while on blood thinning medication is around 10% per year for each year you are on the medication. Most patients diagnosed with AFib are told to take a blood thinner for the rest of their lives.
Successful implant with the Amulet LAA Occluder allows for you to immediately stop the blood thinner medication.
Upon implant with the Amulet LAA Occluder, you do not need to remember to take blood thinning pills everyday. Around 20% of patients do not continue to take their blood thinners in the long-term, leaving them at risk for stroke.
The Amulet LAA Occluder procedure within the CATALYST Trial is covered by Medicare.

What type of blood thinning medication would I take in the CATALYST Trial?

You may already be on blood thinners and would likely continue that medication. There are a few commercially approved, and your doctor will decide which one is best for you.

Are blood thinners safe?

Most patients are prescribed a blood thinner medication after being diagnosed with AFib, depending on risk scores and other factors. As with any blood thinner medication, there is a risk of bleeding, and you may still suffer a stroke while on a blood thinner medication.

How long would I take a blood thinner?

If randomized to a blood thinner in the CATALYST Trial you will be asked to continue your blood thinning medication for 5 years. Your doctor may request you to stop the medication but staying on the medication is important for the trial.

Will the implant require open heart surgery?

No. The procedure typically takes 1-2 hours in a heart catheterization lab where access to your heart is gained by inserting a catheter through your groin to permanently place the Amplatzer™ Amulet™ Left Atrial Appendage Occluder. Most people go home the next day.

How much anesthesia is needed?

Everyone is different. The goal is to ensure that you don't feel pain or discomfort during the procedure. Your doctor will make sure to use only as much anesthesia or sedation necessary to keep you pain free and relaxed.

Will I be able to feel the Amplatzer Amulet occluder?

No. You won't be able to feel the device once it is inserted.

Do I still need blood thinner medication?

No. If randomized to receive Amplatzer Amulet LAA Occluder, almost all who receive an Amulet LAA Occluder can safely stop taking blood thinning medications.

If randomized to receive the medication therapy, you will still be required to take blood thinning medication during the trial.
WHY THE
CATALYST TRIAL IS IMPORTANT
CAUTION: The Amplatzer Amulet device (for CATALYST indications) is an investigational device. Limited by Federal (U.S.) law to investigational use only.
What is the importance of clinical research and the CATALYST Trial?

Allows doctors to compare treatments for effectiveness, safety, and cost to the healthcare system.
May help future patients with similar health conditions receive the best treatment.
May allow patients to receive treatments that may not otherwise be available to them.
The Amulet LAA Occluder is FDA approved, but currently only for AFib patients who are unable to take blood thinners long-term.
The CATALYST Trial is evaluating the Amplatzer Amulet LAA Occluder in patients who are able to take blood thinners long-term. The results of the trial may expand availability of the minimally invasive Amulet occluder to a new group of AFib patients.

Is the Amplatzer Amulet Occluder approved in the U.S.?

The Amplatzer Amulet occluder is an FDA approved device being studied in a different group of patients in the CATALYST Trial. The use of the Amulet occluder in this trial is considered investigational in the U.S. In the CATALYST Trial patient population, the device is limited by U.S. law to investigational use only and not available for sale.
MAT-2215001 v1.0 | Item approved for U.S. use only.