PATIENT INFORMATION
TREATMENT OPTIONS
INNOVATIVE THERAPIES THAT
CHANGE PATIENTS' LIVES FOR THE BETTER
If you or a loved one has a structural heart condition, it's important to learn everything you can about your treatment options. At Abbott, we've built a broad portfolio of therapies to repair the damage caused by structural heart disease at every stage of life.
Our advanced solutions treat a range of conditions, including: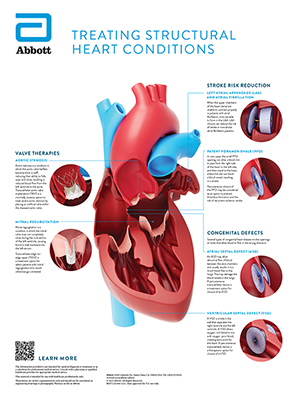 RESOURCES
Learn about treating structural heart conditions with less invasive transcatheter procedures.
The information provided is not intended for medical diagnosis or treatment as a substitute for professional medical advice. Consult with a physician or qualified healthcare provider for appropriate medical advice.
MAT-2304042 v1.0 | Item approved for U.S. use only.