AORTIC STENOSIS
AORTIC VALVE REPLACEMENT
WHEN TO CONSIDER
AORTIC VALVE REPLACEMENT?
Once aortic stenosis progresses to severe stage, one of the AS treatment options is to replace your diseased aortic valve. In some cases, your doctor may recommend aortic valve replacement even if you aren't experiencing symptoms.1
Treating Aortic Stenosis
Aortic stenosis treatment depends on the severity of your condition, whether you're experiencing symptoms, and if your condition is getting worse.1 Based on your level of risk, the outcomes from your diagnostic tests, and lifestyle preference, your doctor will recommend the best treatment option for you.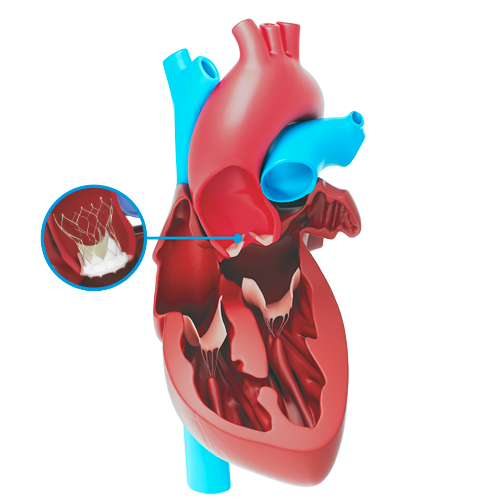 DISCUSS ALL TREATMENT OPTIONS WITH YOUR DOCTOR
Your doctor can describe the risks and benefits and help you decide which option is right for you.

BALLOON
AORTIC VALVULOPLASTY
In this procedure, a small balloon catheter is threaded into the heart through an artery and then inflated to open the valve.1 However, the valve will eventually narrow again, requiring additional procedures.

MEDICATION

Patients with mild-to-moderate aortic stenosis may be prescribed medications to help manage their symptoms or reduce the burden on their heart.1 However, medications cannot cure aortic stenosis.3
AORTIC VALVE
REPLACEMENT
There are two options for replacing your aortic valve: surgical aortic valve replacement (SAVR) or transcatheter aortic valve replacement/implantation (TAVR/TAVI).
Early treatment is key to prevent progression to heart failure.1-3
Surgical Aortic Valve Replacement (SAVR)
SAVR is an open-heart procedure, where your surgeon removes the damaged valve and replaces it with a mechanical valve or a bioprosthetic (tissue) valve.2
Learn about tissue valve replacement by downloading the guide for the Epic™ aortic tissue valve .
See how patients like Tom benefit from Surgical Aortic Valve Replacement
Tom had a life-long love of surfing, but his aortic stenosis had progressed to the point where he could no longer catch a wave. Watch Tom's story to learn how the SAVR procedure with the Epic™ Supra Valve "rolled the clock back a decade" and enabled him to live a normal life again.
Transcatheter Aortic Valve Replacement (TAVR or TAVI)
TAVR/TAVI is a minimally invasive procedure that uses a catheter threaded through an artery to implant a new valve within your diseased aortic valve.2
Navitor™ valve and Portico™ valve provide an alternative, minimally invasive treatment option for people living with severe aortic stenosis who are not candidates for open-heart surgery due to age, frailty, or other conditions that make surgery too risky.
Learn more about Navitor TAVR/TAVI and Portico TAVR/TAVI.
Most patients can resume a healthy, active life after valve replacement.
Transcatheter Aortic Valve Replacement with Navitor™ Valve
Learn more about transcatheter aortic valve implantation (TAVI) with the Navitor™valve.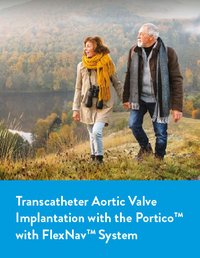 Transcatheter Aortic Valve Replacement with Portico™ Valve
Learn more about transcatheter aortic valve implantation (TAVI) with the Portico™valve.
The choice of proceeding with SAVR versus TAVR is based on multiple factors, including your risk score, frailty, comorbid conditions, and your personal preferences and values.4 To determine what type of valve is best for you, your doctor will take many factors into consideration, such as your age, overall health, and medication requirements.4
The information provided is not intended for medical diagnosis or treatment or as a substitute for professional advice. Consult with a physician or qualified healthcare provider for appropriate medical advice.
MAT-2305140 v3.0 | Item approved for U.S. use only.