MITRAL REGURGITATION TREATMENT
MITRAL VALVE REPAIR
MITRAL VALVE REPAIR IS A
TREATMENT OPTION FOR MITRAL REGURGITATION
Treatment for mitral regurgitation, or leaky mitral valve, depends on how severe your condition is, and if it's getting worse.1 The goal of treatment is to improve your heart's function while minimizing your symptoms and avoiding future complications.
If you have mitral regurgitation, mitral valve repair surgery is considered one of the most effective long-term treatments. Mitral valve repair surgery gives you the greatest probability for a safe and effective solution over time.
Options to repair the mitral valve include traditional open-heart surgery and a minimally invasive transcatheter procedure: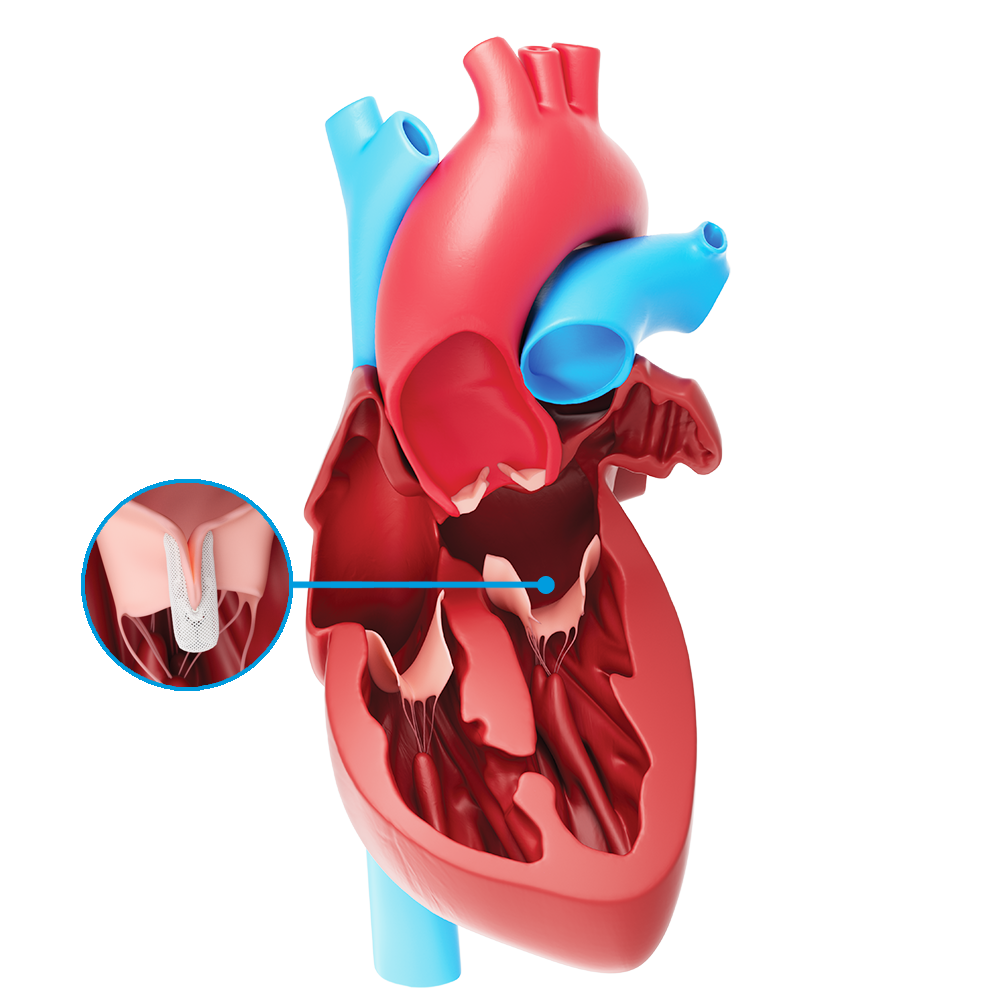 DISCUSS ALL TREATMENT OPTIONS WITH YOUR DOCTOR
Your doctor can describe the risks and benefits and help you decide which option is right for you.

MEDICATION

Medications may be prescribed to help manage symptoms of mitral regurgitation, such as diuretics for fluid buildup in the legs and lungs. However, these medications only treat the symptoms and do not address the underlying problem with your mitral valve that is causing your disease.
MITRAL
VALVE REPAIR SURGERY
If mitral valve repair is an option for you, a surgical technique called an annuloplasty may be performed. This procedure typically involves the implantation of a device to tighten or replace the ring around the mitral valve (annulus) so that the valve leaflets can close properly. When needed, other techniques may be used to repair the valve.
TRANSCATHETER
EDGE-TO-EDGE REPAIR (TEER)*
TEER with MitraClip™ therapy is a minimally invasive procedure that may be an option for people with severe mitral regurgitation. Unlike surgery, this procedure does not require chest incisions and temporarily stopping the heart. In this procedure, a small implanted clip is attached to your mitral valve (accessed through a vein in your leg) to help it close more completely. This helps to restore normal blood flow through your heart.
*Formerly referred to as transcatheter mitral valve repair (TMVr).
A Guide for people with mitral regurgitation
Download the mitral regurgitation treatment guide to learn more about a minimally invasive transcatheter mitral valve repair option
See how patients like Scott benefit from MitraClip™ therapy
Scott was an avid runner all of his life, but his mitral regurgitation had progressed to the point where he could no longer climb the stairs. Watch Scott's story to learn how minimally invasive MitraClip therapy enabled him to regain his life and start running again.
This testimonial relates an account of an individual's response to the treatment. This patient's account is genuine, typical, and documented. However, it does not provide any indication, guide, warranty, or guarantee as to the response other persons may have to the treatment. Responses to the treatment discusses can and do vary and are specific to the individual patient.
The information provided is not intended for medical diagnosis or treatment or as a substitute for professional advice. Consult with a physician or qualified healthcare provider for appropriate medical advice.
MAT-2305138 v2.0 | Item approved for U.S. use only.