Stroke Risk Reduction
Left Atrial Appendage Occlusion
HOW IS
ATRIAL FIBRILATION (AFib) TREATED?

Treatment depends on the severity of your AFib and if it's getting worse. Depending on your doctor's recommendation, there are three standard treatment paths that are outlined below that include blood thinning medications, catheter ablation, and left atrial appendage occlusion.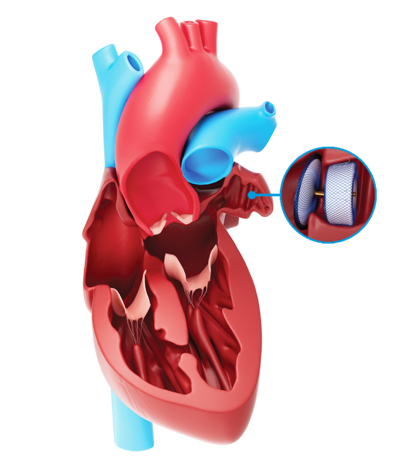 DISCUSS ALL TREATMENT OPTIONS WITH YOUR DOCTOR
Your doctor can describe the risks and benefits and help you decide which option is right for you.

MEDICATIONS
Your doctor may prescribe blood thinning medications to reduce the risk of a clot forming.1

CATHETER ABLATION
Catheter ablation or cardiac ablation is a procedure where your doctor will access your heart through a blood vessel and apply energy to the targeted heart tissue. This will isolate the area from the rest of the heart and reduce the risk for producing AFib.1
LEFT ATRIAL APPENDAGE OCCLUSION
If you meet certain criteria, your physician may recommend a minimally invasive non-surgical procedure: left atrial appendage occlusion (LAAO).1
Understanding Left Atrial Appendage Occlusion to Reduce Stroke Risk
Download the AFib treatment guide to learn more about the treatment options.
WHAT IS
AMPLATZER™ AMULET™ LAA OCCLUDER?
The Amplatzer Amulet LAA Occluder is a small device about an inch long, that effectively seals off your LAA to prevent clots from escaping into the rest of your body. Highly trained physicians place the device during a short, non-surgical procedure. The Amplatzer Amulet Occluder is currently approved in the U.S. and many other areas of the world for patients with AFib who are unable to tolerate long-term blood thinning medication and has been implanted in over 40,000 patients worldwide.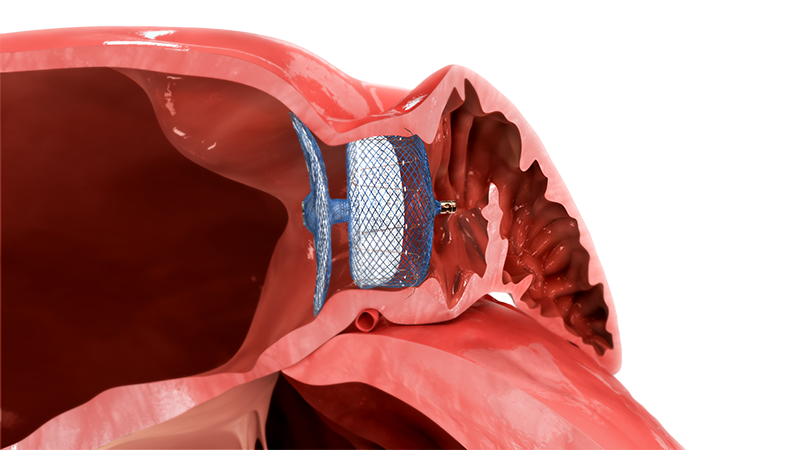 ABOUT AFIB TREATMENT WITH
THE AMPLATZER AMULET LAA OCCLUDER
If you have AFib and are considering an alternative to long-term or life-long anticoagulants (blood thinners), your doctor may recommend the Amplatzer Amulet Occluder to reduce your risk of stroke. The procedure to get an Amulet device is minimally invasive. Here's what you should know:
The procedure is not open-heart surgery
The procedure takes 1 to 2 hours
Most patients are out of the hospital within 24 hours
This type of procedure has been done for many years
Physicians who place the Amulet Occluder have extensive training and experience
FREQUENTLY ASKED QUESTIONS
ABOUT LAA OCCLUSION
How can I stop taking blood thinners?

Stopping blood thinners is a real possibility for people with non-valvular atrial fibrillation. Your doctor likely prescribed a blood thinner to reduce your risk of stroke when you were first diagnosed. Blood thinners, also called oral anticoagulants, are pills or tablets that thin the blood to help prevent clots.2

Blood thinners cause side effects that many people find troubling and lead them to stop or seek alternatives.3-5 Unsightly bruises or fear of falls and cuts can interfere with people's ability to do activities they enjoy like cooking, sewing, traveling, cycling, playing with grandchildren.

Is the Amplatzer Amulet LAA Occluder an alternative to blood thinners?

Yes, the Amplatzer Amulet LAA Occluder reduces stroke risk without the need for blood thinners immediately after the procedure in most cases.6

Blood thinners are the most common way to reduce stroke risk for people with AFib. But many people are not able to take blood thinners long term. In fact, for the reasons below, 1 in 4 people stop taking blood thinners.

Increased risk of bleeding
Unpleasant side effects
Costs
The need for constant blood testing
Other medical conditions

Will closing off my left atrial appendage affect my heart function?

No. The left atrial appendage is a normal part of the heart's anatomy, but the heart works just as well when the LAA is closed.7

Does LAAO require open heart surgery?

No. You would have a one-time procedure called Left Atrial Appendage Occlusion, or LAAO. The procedure typically takes 1-2 hours in a heart catheterization lab. Most people go home the next day.

The LAAO procedure only requires a small incision in the upper leg through which the doctor threads a catheter into the heart. Doctors use the same type of procedure when people need a stent or have a heart valve that needs to be repaired or replaced. Once the Amulet Occluder is in place, it stays in your heart permanently to protect you.

How much anesthesia is needed?

Everyone is different. The goal is to ensure that you don't feel pain or discomfort during the procedure. Your doctor will make sure to use only as much anesthesia or sedation necessary to keep you pain free and relaxed.

How long do people need to stay in the hospital?

People are typically discharged within 24 hours. The procedure typically takes 1-2 hours and is performed in a heart catheterization lab. This lab is a special area or location where minimally invasive procedures are performed.

What are the risks of LAAO?

Although LAAO is minimally invasive, as with any procedure, there are risks. In the clinical trial on which the FDA based its approval of the Amulet Occluder, less than 5% of patients in either treatment group experienced a procedure-related complication. More information about the safety of the Amulet Occluder is provided below.

Will I be able to feel the device?

No. You won't be able to feel the device once it is inserted. The Amulet Occluder stays in your heart permanently to protect you.

Why is my doctor recommending the Amulet Occluder?

Reducing your stroke risk and restoring your quality of life are of primary importance to your doctor. The Amulet Occluder is highly effective in achieving both goals, right away.

How long has the Amulet Occluder been around?

The Amulet Occluder has been the #1 device for LAAO occlusion in Europe since 2013. This device is available for patients in the United States.

How does the Amulet Occluder work?

The Amulet Occluder is a small device that seals off the area of the heart where 90% of stoke-producing blood clots form. This area is called the left atrial appendage, or LAA. The procedure to receive this device is called Left Atrial Appendage Occlusion, or LAAO. This minimally invasive procedure prevents clots that may have formed in the LAA from escaping into the body where they can pose a risk of stroke.1

The device has a unique design that completely seals the left atrial appendage. Only the Amulet Occluder has two connected parts that work together to close the LAA, like a lock and key. One part of the device seals off the appendage.

The other part secures the seal. And, because every patient's LAA is unique, your doctor will choose the Amulet Occluder shape and size that will work for you.

How can the Amulet Occluder help me?

There are two ways the occluder helps if you have non-valvular AFib:

First, and most importantly, it reduces your risk of stroke. Closure of the left atrial appendage with the Amulet Occluder is a one-time procedure.

Second, and important for your quality of life, the Amulet Occluder makes it possible for you to stop taking blood thinners.

What are the success rates?

Success, considered effective closure, with the Amulet Occluder was 98% in the clinical study on which the FDA based its approval.

What is the frequency of complications?

In the clinical trial on which the FDA based its approval of the Amulet Occluder, less than 5% of recipients experienced a procedure-related complication. Eighteen months after the procedure, rates of expected safety issues (thrombosis, embolism, and stroke) were all less than 5% and were even lower with the Amulet Occluder than with the device to which it was compared.

How do doctors monitor if it's working?

The Amulet Occluder does not require ongoing monitoring, unlike some blood thinners. Before the procedure, your doctor will use special imaging instruments to measure the size of your left atrial appendage. These measurements guide the doctor to select the right size occluder for your appendage. Then, before the procedure is finished, your doctor will assess the placement of the device using special imaging instruments. Only when the doctor is confident that your Amulet Occluder is exactly where it needs to be, will it be placed there permanently to protect you. You may have follow-up imaging to ensure complete closure and that the heart tissue has grown over the device.
The information provided is not intended for medical diagnosis or treatment as a substitute for professional medical advice. Consult with a physician or qualified healthcare provider for appropriate medical advice.
MAT-2305649 v2.0 | Item approved for U.S. use only.