Patient information
Atrial Fibrillation (AFib) and Stroke
CAN ATRIAL FIBRILLATION CAUSE STROKE?
In Atrial Fibrillation (AFib), the top chambers of the heart quiver or flutter. This can cause blood to pool in the heart and form clots. When clots travel to the brain, they can cause a stroke. Most clots that lead to stroke are formed in an area of the heart called the left atrial appendage.1
AFIB TREATMENT OPTIONS TO REDUCE STROKE RISK
Medical Management
Anticoagulant medications help treat AFib by thinning the blood to reduce the risk of a clot forming. However, many people are not able take blood thinners due to:2

Increased risk of bleeding



The need for constant blood testing


Increased risk of bleeding



The need for constant blood testing

Catheter Ablation
Cardiac ablation is a procedure in which your doctor will access your heart through a blood vessel. A catheter (a long, steerable tube) will enter the vessel and be placed in your heart where diagnostic devices will be used to determine the area of the heart that needs to be treated. The doctor will use the catheter to apply energy to the targeted heart tissue. This will isolate the area from the rest of the heart and prevent it from producing AFib.

Left Atrial Appendage Occlusion
with the Amplatzer™ Amulet™ LAA Occluder is an atrial fibrillation treatment that completely closes the left atrial appendage (LAA) and immediately eliminates the need for blood thinners. The Amplatzer™ Amulet™ occluder:
Permanently closes off a small area of the heart where clots are known to form.
Prevents clots formed in the appendage from escaping into the body.
Allows people to stop taking blood thinners (anticoagulants) immediately.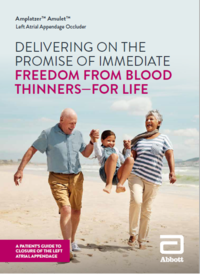 FACT: Amplatzer™ Amulet™ is the only device of its kind that offers immediate freedom from blood thinners. Learn more about closure of the left atrial appendage and how it works to reduce stroke risk.
ABOUT AFIB TREATMENT WITH THE AMPLATZER AMULET™ DEVICE
If you have atrial fibrillation and are considering an alternative to long-term or life-long anticoagulants (blood thinners), your doctor may recommend the Amplatzer™ Amulet™ device to reduce your risk of stroke. The procedure to get an Amulet™ device is minimally invasive. Here's what you should know:
The procedure is not open-heart surgery
The procedure takes 1 to 2 hours
Most patients are out of the hospital within 24 hours
This type of procedure has been done for many years
Physicians who place the Amulet™ have extensive training and experience
MAT-2114211 v2.0 | Item approved for U.S. use only.